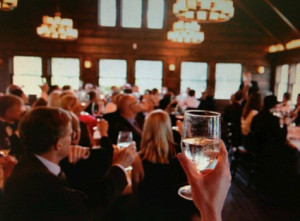 On-Site Private Dining & Events Enjoy your next private breakfast, lunch, or brunch, with your friends and relatives at the Meridian.
Your group will enjoy a wonderful menu designed and prepared by Chef Allen Smith and his crew, while enjoying the cozy and intimate atmosphere of the Meridian. Our beautiful dining room is a perfect space for your next bridal or baby shower, baptism, communion, confirmation, reunion, your next day wedding brunch, or for any special occasion!
A Very Special Upstairs Venue The next time your board, trustees, social club or old college friends are getting together, why not make it memorable? Book an intimate dinner in the Meridian's private, upstairs hideaway. For parties of 20 or fewer, there's not a more secluded dining room in town – and you can select a special menu or order from the night's menu. In either case, your group will be elevated to a new level of dining experience.
In-Home Fine Dining & Off-Site Catering Now you can offer your dinner and party guests the outstanding tastes of the Meridian Restaurant. Our full service catering operation will customize the entire experience – from a special menu, cocktails, wine pairings and desserts that make for a wonderful, hassle-free meal. Your private chef and service staff will be onsite at the location of your choosing to accommodate all your needs. We look forward to creating a truly special event for you.
To inquire about off-site services, call 317.466.1111